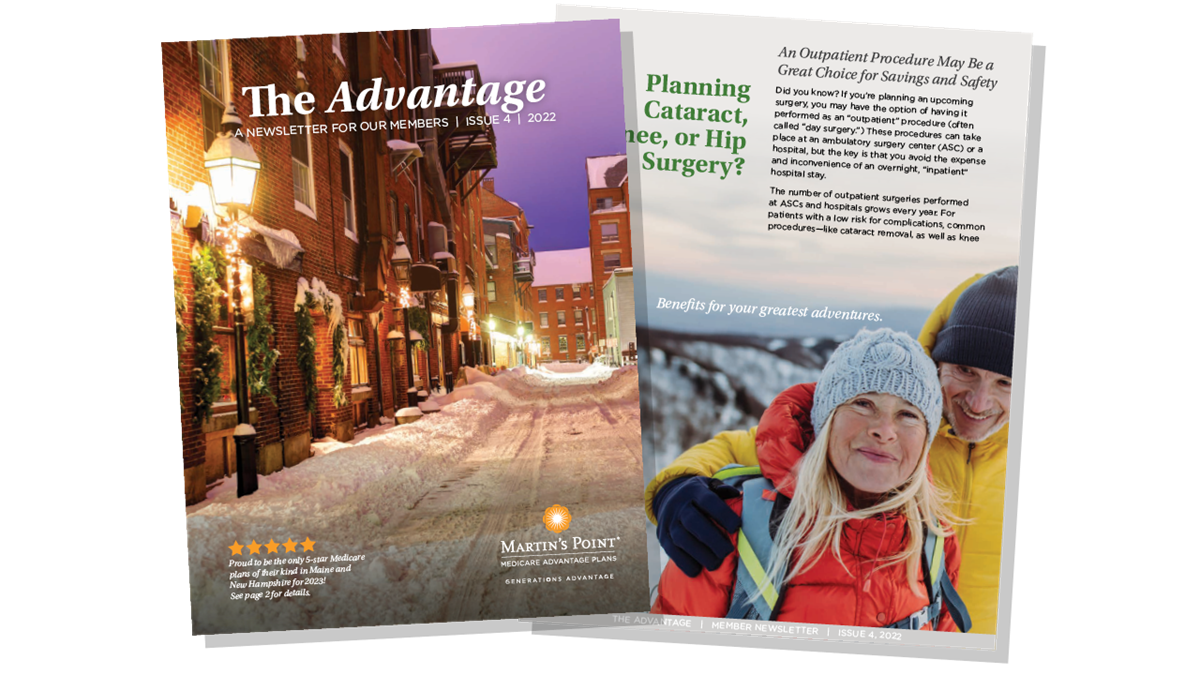 For more of The Advantage member newsletter
The Advantage Newsletter 2022 Issue 4 (11/9/22)
In this edition:
5 Stars Earned in Maine and New Hampshire for 2023!
Proud to Be among the Few!
Dear Neighbor,
Every year during their Annual Enrollment Period, the Centers for Medicare and Medicaid Services (CMS) publish their Star Ratings to help seniors compare the quality and service of Medicare Advantage plans in their area. Ratings are based on measures of customer service, member experience, chronic conditions management, prescription services, how the plan helps members stay healthy, and more. For 2023, Medicare rated over 507 Medicare Advantage contracts nationwide with only 57 earning their top rating. Our Martin's Point Generations Advantage Prime (HMO-POS), Value Plus (HMO), Alliance (HMO), and Focus DC (HMO SNP) are the only HMO-style plans in Maine to earn Medicare's highest rating and are the only 5-Star plans in New Hampshire. Our Select (LPPO) plan earned an excellent 4.5-Star rating. We know you have many options for your Medicare coverage. As a local not-for-profit, we work hard to earn your continued membership, competing with national, for-profit insurance companies. We believe our commitment to put you and your health first is what makes Generations Advantage stand out from the rest. With our great 5-Star news comes the comfort (and pride) of knowing you've made an excellent choice for your health plan! We look forward to delivering top-quality benefits and service to you now and for years to come.
Your Member Services Team
Holiday Hosting on a Budget from Foodsmart™
Do you love hosting holiday gatherings but often overspend?
Your free Foodsmart benefit can make menu planning, finding deals, and shopping on a budget as easy as 1, 2, 3. *Download the Foodsmart app or go to MartinsPoint.Zipongo.com to set up a Foodsmart account on your computer. Your Sign-On Group is "Martin's Point Generations Advantage.
Use your Foodsmart app* to:
Create a set menu. Then get the right amount of food. Find healthy recipes under 'Budget Friendly Fare,' or filter all recipes by your grocery budget.
Shop the discounts and opt for generic brands. Use the 'Deals' feature to browse sales at your local grocery stores.
Avoid the grocery store madness. Add selected items to your digital grocery list and check out for delivery or pickup.
An Outpatient Procedure May Be a Great Choice for Savings and Safety
Did you know?

If you're planning an upcoming surgery, you may have the option of having it performed as an "outpatient" procedure (often called "day surgery.") These procedures can take place at an ambulatory surgery center (ASC) or a hospital, but the key is that you avoid the expense and inconvenience of an overnight, "inpatient" hospital stay.
The number of outpatient surgeries performed at ASCs and hospitals grows every year. For patients with a low risk for complications, common procedures—like cataract removal, as well as knee and hip joint replacements—are safely performed without the need for an overnight hospital stay. In fact, for more than a decade, most cataract surgeries have been performed safely and conveniently in ASCs.1
The American Association of Orthopaedic Surgeons has also reported that, for low-risk patients, outpatient procedures at ASCs and hospitals are as medically safe, more convenient, and less costly than an inpatient hospital stay for joint replacements and other musculoskeletal surgeries.2If your doctor says you have a low risk for complications, you may want to discuss the option of having outpatient surgery at an ASC or hospital. For the right patient and procedure, choosing to avoid an inpatient hospital stay can provide savings of several hundred dollars without sacrificing quality.
As always, you and your surgeon will determine the most appropriate surgery setting for you, with your Generations Advantage plan offering excellent coverage for all your options.
You can use the chart below to compare your costs (copays or coinsurance) under your 2023 Generations Advantage plan.
Prescription Drug Formulary and Brand-Name Drugs
Our drug formulary is a list of drugs that are covered by your health plan if your plan includes Part D Prescription Drug coverage. We review our Generations Advantage formulary regularly to make sure it is efficient, effective, and helps keep member costs as low as possible. You can search our formulary on our website here. In some cases, we may decide to keep a brand-name medication on the formulary and leave its generic form as a "non-formulary" medication (not covered). To receive the formulary brand-name medication, your prescriber must specify "brand medically necessary" on the prescription to ensure you receive the formulary medication rather than the non-formulary, generic medication at the pharmacy. The table below is a current list of medications where the brand-name version is preferred over the generic.