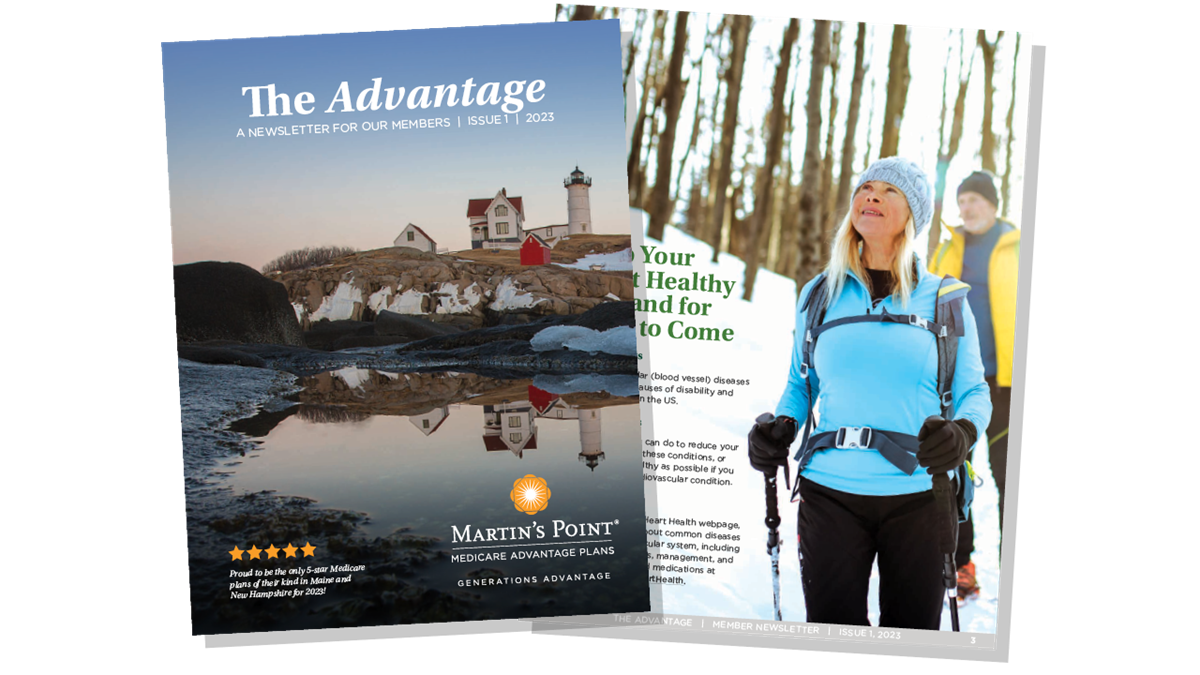 For more of The Advantage member newsletter
The Advantage - Issue 1, 2023 (PDF) - February 16, 2023
In this edition: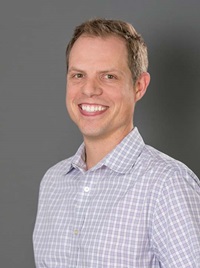 Get a Jump Start on a Healthy Year Ahead
A Personal Note from Doctor Marty
On March 11, 2020, the World Health Organization declared COVID-19 a pandemic. Two days later, a national emergency was declared and, instantly, my priorities at home and work changed.
Somehow, I let two and a half years pass before I returned to my PCP's office for my "annual" physical! I entered feeling embarrassed that a family physician like me had waited so long to return to getting the preventive care I know is so important. I left satisfied and grateful for the time and attention.
Inside, you'll find information about your annual physical exam and Medicare Annual Wellness Visit—important yearly care you may still be putting off. We recommend you schedule these appointments NOW. They are your opportunity to discuss other, potentially life-saving, preventive screenings—for breast and colorectal cancers and more—with your provider.
To support your best health, your Generations Advantage plan covers preventive exams and screenings with $0 in-network member copays. Please log on to your patient portal, give your PCP a call, or use a carrier pigeon, and schedule your appointment today.
Best wishes for a healthy year ahead!

Martin Wesolowski, DO, MBA
Vice President, Medical and Pharmacy Management
---

Schedule Your Medicare Annual Preventive Care Visits TODAY!
Your Generations Advantage plan covers your annual routine physical exam and Medicare Annual Wellness Visit at $0 copays if performed in network. Schedule both services as early as possible each year to help prevent, manage, or identify chronic conditions or other health concerns.
Have Diabetes? Get Your Eyes Checked!
People with diabetes have an increased risk of developing other health conditions, including an eye disease called diabetic retinopathy. This condition occurs when there is damage to the blood vessels in the retina or light-sensitive tissue located in the back of your eye. Like many conditions, people generally don't have symptoms of diabetic retinopathy until late stages when it can cause vision loss and even blindness.
What can you do to take extra care of your eyes?
Diabetic retinopathy discovered in early stages can be treated to prevent or slow damage to your vision. The National Eye Institute recommends a yearly dilatedeye exam for persons with diabetes. This exam is a simple and painless way for your eye doctor to check for this disease.
Keeping your blood sugars in a healthy range is your best means of avoiding this condition. Have your doctor regularly check your blood sugars through A1c tests
Managing your cholesterol and blood pressure can also decrease your risk of developing diabetic retinopathy.
To support your eye health, your Generations Advantage plan covers a yearly diabetic (dilated) eye exam with a $0 member copay.
Keep Your Heart Healthy Now and for Years to Come
The hard facts
Heart and vascular (blood vessel) diseases are the leading causes of disability and death for adults in the US.
The good news
There's plenty you can do to reduce your risk of developing these conditions, or to help stay as healthy as possible if you already have a cardiovascular condition.
Learn more
Check out our new Heart Health webpage, full of information about common diseases of the heart and vascular system, including overviews, risk factors, management, and commonly prescribed medications.
Breast Cancer: Take Action to Reduce Your Risk
Over the past decade the rate of breast cancer incidence has slightly increased (.5% per year) and the death rate associated with breast cancer is not decreasing as fast as it has been. Some trends in the US that may account for this are increased body fat and decreased fertility rates in women, as well as cancer screening rates that are not increasing
The good news is that there are actions you can take to reduce your risk of getting breast cancer:
Eat healthy, exercise, and limit alcohol.
Perform regular self-breast exams.
Get screening mammograms every two years if between the ages of 45–74 (with the option of starting regular screening at 40).
Colorectal Cancer Screening: What You Need to Know
Colorectal cancer is the second-leading killer for cancers affecting both men and women in the US. Screening can prevent cancer by removing precancerous polyps and can find cancer in earlier stages when treatment is most effective. Regular screening is particularly important because most people with colorectal cancer don't have a family history of the disease and, in earlier stages of the disease, there are often no symptoms.
There are several screening tests for colorectal cancer which have different frequencies* for testing.
Stool Tests

Guaiac-based Fecal Occult Blood Test: detects blood in stool with chemical guaiac (yearly testing).
Fecal Immunochemical Test (FIT): detects blood in stool with antibodies (yearly testing).
FIT-DNA: a FIT combined with another test that detects changed DNA (every three years).

Visual Tests

Colonoscopy: a long, flexible, lighted tube is inserted into the rectum to identify polyps and/or cancer in the rectum and entire colon (every 10 years).
Flexible Sigmoidoscopy: a short, flexible, lighted tube is inserted into the rectum to identify polyps and/or cancer in the rectum or lower third of the colon (every five years).
CT Colonography: through X-rays and computer technology, an image of the entire colon is created (every five years).
*You will need a colonoscopy if any of the other screening tests come back abnormal. You may require more frequent testing than what is indicated depending on your results or medical history.
Inflation Reduction Act Affects Insulin and Some Part B Drug Costs
Insulins
Insulin Coverage Change: Member cost shares for covered insulin products will not exceed $35 for a one-month supply (up to 30-day supply), $70 for a 60-day supply, or $105 for a 90-day supply
EFFECTIVE
January 1, 2023
this includes:
Insulins on your plan's Part D formulary when provided by an in-network provider or an out-of-network provider.
Insulins not on your plan's Part D formulary, but which you are receiving as a result of a coverage determination or appeal.
EFFECTIVE
July 1, 2023
this includes:
Part B insulins covered on your plan. (These typically include insulins delivered through an insulin pump, for which members currently pay a 20% cost share.)
Other Part B Drugs
EFFECTIVE
April 1, 2023
this includes:
Reduced coinsurance for certain Part B drugs, identified each quarter by the Centers for Medicare and Medicaid Services (CMS). The list of eligible drugs (and coinsurance reductions) may change each quarter.
Part D Vaccine Costs for 2023
In accord with the Inflation Reduction Act of 2022, as of January 1, 2023, Generations Advantage plans that include Part D Prescription Drug coverage now cover most Part D vaccines at no cost to you even if you haven't paid any applicable Part D deductible.
Getting a vaccine at your doctor's office: You may be charged an office visit copay. You may also have to pay upfront and submit for full reimbursement for the vaccine, itself.
Common Vaccines Covered under Medicare Part B or Medicare Part D
IMPORTANT NOTE: Before you get any tetanus vaccine, your doctor or pharmacist must call CVS Caremark for authorization.
Vaccine

Your Cost at Doctor's Office*

Your Cost at a Pharmacy

COVID-19 Medicare Part B
All COVID-19 Vaccines
Medicare covers COVID-19 vaccines for members with no out-of-pocket costs. Visit your state's CDC website for vaccine locations.
-
Flu (influenza) Medicare Part B
Quadrivalent, Trivalent,
Intradermal, High Dose
You pay $0 for the vaccine.
-
PneumoniaMedicare Part B
Pneumovax®, Prevnar 13®,
Prevnar 20®

You pay $0 for the vaccine.
You pay $0. You must bring a prescription to pharmacy.
Shingles Medicare Part D
Shingrix®
You may have to pay full cost and submit to plan for 100% reimbursement for vaccine. Shingrix* requires two shots and two payments/reimbursements.
You pay $0. You must bring a prescription to pharmacy.
TDAP Medicare Part D
Adacel®, Boostrix®
You may have to pay full cost and submit to plan for reimbursement for vaccine.
You pay $0. You must bring a prescription to pharmacy.
Tetanus (preventive, NOT treatment of wound—Medicare Part D)
You pay $0. You must bring a prescription to pharmacy. Coverage determination is required.
-
Tetanus (treatment of wound—Medicare Part B)
You pay 20% of the cost of the vaccine.
Not available at a pharmacy.
*You will also pay any applicable office visit copay when you get your vaccine from your doctor.
Prevent Suicide— Let's Talk about It
It Could Save a Life
Talking about suicide is very important if you're worried someone may be considering ending their life. You may be afraid that discussing suicide will make it more likely to happen. In fact, talking about it can reduce the risk of suicide. Feeling connected to others can help protect people from suicide.
How to talk about suicide
It may not be easy to discuss suicide with someone you care about. But an open, supportive conversation can be a lifeline for a person who's thinking about taking their life.
When you're ready to have this talk, follow these steps.
Don't be afraid to be direct. You might say, "I'm worried about you. Are you thinking about suicide?" They may be relieved to talk about it. Encourage them to talk about why they feel this way. Accept that their feelings are real. Try to stay calm, don't judge or argue with them.
Be a good listener. Pay close attention, make eye contact, and don't interrupt. When they're finished, ask questions to make sure you understand what they said. Repeat what you heard, including anything they mentioned that makes their life worth living.
Ask if they have a plan. This may feel scary to talk about, but it's important to know. Have they set a date or chosen a location? Do they have any weapons, pills, or other means of suicide? Have they tried to hurt themself before? The answers can help you assess the danger. The more detailed their plan, the higher the risk. But take all talk of suicide seriously.
If they have a plan to harm themself or someone else, get help right away. Call 911 or take them to an emergency room.
Offer your help. You might be able to:


Help them make a list of trusted people they can call for support.
Help them find treatment or a support group.
Remove and store any means of suicide, such as weapons or pills.
If possible, tell them you're available when they need to talk. But don't commit to anything that you won't or can't do.
Encourage them to get professional help. Urge them to call their doctor, a mental health professional, or a crisis hotline. Don't agree to keep this talk a secret. It may not feel right, but the person's life may be at risk, and they need more support than one person can give.
Follow up on your talk. Call or visit soon or send a text or an email. You might offer to drop off food or go for a walk with them. Staying in touch shows you care and helps them feel valued and supported.
Warning signs of suicide in adults include:
Talking or writing about wanting to die or to hurt or kill themselves or someone else.
Saying they feel hopeless, trapped, without purpose, in pain, or like they're a burden.
Looking for ways to harm themselves. They may buy a gun or stockpile medicines.
Increasing their use of alcohol or drugs.
Withdrawing from family, friends, and activities.
Seeming angry, anxious, or depressed.
Eating or sleeping less or more than usual.
Doing risky things, like driving too fast.
Giving away their belongings.
Where to Get Help
Where to get help 24 hours a day, 7 days a week
If you or someone you know talks about suicide, self-harm, a mental health crisis, a substance use crisis, or any other kind of emotional distress, get help right away. You can:
Call the Suicide and Crisis Lifeline at 988.
Veteran's Crisis Line: call 988 then press 1.
Call 1-800-273-TALK (1-800-273-8255).
Text HOME to 741741 to access the Crisis Text Line.
Behavioral Health Care Management Program
A Martin's Point care manager can also help address ongoing behavioral health needs. If you would like to speak to a Martin's Point behavioral health care manager about our free care management program, call 1-877-659-2403.
Learn more about ways to support the mental health of adults and children on our Mental Health page.